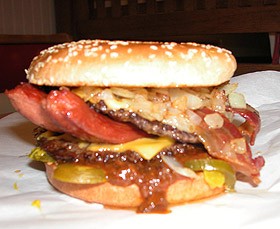 For years this off menu secret item was available only at the Hillcrest and Mockingbird locations to those lucky enough to be in the know.
Two all beef patties, two slices of cheese, one hot-dog, two slices of applewood bacon, chili, grilled onions, jalapenos and mustard all between a toasted bun—now thats a real gut bomb!
So put your game face on and bring your appetite because the Texas Hamburdog is ready to fill your gut and dance all over your taste buds.