We Feed You. You Feed Back.
We love your feedback—good or bad, we want to know what you think. Do you have pictures you want to share from the last time you were at a Burger House or from one of your parties that Burger House catered? You can upload them here too!

Customers Say
My wife and I have been eating at Burger House for 15 years, first at the original location on Hillcrest, then Mockingbird, and now usually Campbell as we relocate around Dallas. Usually, the manager/owner recognizes my wife when she walks in the door and calls her out by name as we approach the counter. Hi "Rose". And more often than not, they even confirm my wife's order before she has said a word... "Cheese Burger basket, sissy style, no onions right?" We are loyal and happy BH customers.

Grew up in Dallas, eating your burgers and fries. Now I'm married and live in California. Just wanted to say that your famous salt goes REALLY well on chicken! Sprinkle it on boneless chicken, put it in the oven at 375 degrees for 35 mins. Yum. Also good on fried zuchinni. Yum. Thanks for years of great seasoning!

I lived in University Park and was raised on Burger House. Then I moved to East Dallas and had the Mockingbird location. Now that I live in Coppell I have to travel to the Marsh store. Please, please consider opening a store in the Lewisville, Coppell, Grapevine area. We love Burger House and we need one in our neighborhood.

I live several minutes away, and didn't realize that I drive past your location all the time. Read your reviews from Google. Ol' fashioned burgers - LUV IT!!! I was also surprised to see Kool-Aid on your menu! Brought back childhood memories! Love the seasoning as well, just wished for a little more on my fries. I will be buying a bottle of that seasoning the next time I drive by! Keep it up!

Everyone loves these fries. Seriously. At least 10 people we spoke to regarding the best fries in town mentioned Burger House, the Dallas institution that's been open on Hillcrest, across from SMU, since 1951. What makes these thin, crispy fries special (besides all your fond childhood memories) is the famous seasoning salt, a combo of garlic powder, salt, pepper and other "natural seasonings." This stuff can be a little strong for some (not to mention super-salty), so asking for fries "light on seasoning" is common.

… Burger House's servings are big and delicious. The burger was perfectly cooked, the cheese was wonderfully melted with the grilled onions mixed into the cheese and the burger was layered correctly. What do I mean by layered correctly? The lettuce, tomatoes, pickles and mustard were on the bottom, under the burger, the way it should be done. …


Editorial Winner Best Fries 2008

Since 1951, the Burger House has a steady stream of customers who can't get enough of the inexpensive, one-of-a-kind hamburger…[and] the malts and shakes are among the best in town.



Best Hamburger 2007

…[this] 56-year-old institution where son and father and grandfather can bond over a $3.70 double cheeseburger, a basket of the special-seasoning fries (best in town, till death do us part) and a "real" cherry coke…


Our staff picks the South's best flavors…[and] can choose only one place in a single location for each category…#36 Burger House: The original location on Hillcrest is the best.

Making a distinctive burger and fries isn't easy in this burger-and-fries-mad world. But Burger House has done it…

They have mouthwatering cheeseburgers, but it's the seasoned French fries that make grown men dressed in business suits stand in long lines during their lunch breaks.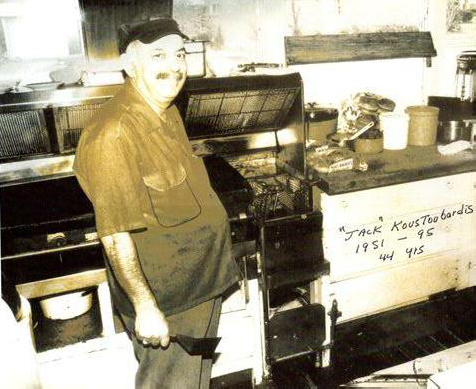 Leave a Review