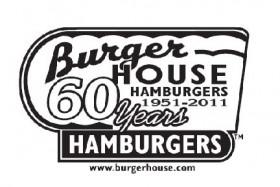 Local institution Burger House will celebrate 60 years in business on Tuesday, December 13, 2011, with contests, giveaways and 60-cent cheeseburgers.
When Burger House first opened its doors on Hillcrest in 1951 (view photo gallery), Dallas was quite a bit different than it is today. With just four lanes, newly opened Central Expressway stretched just over two miles from the northern edge of downtown to Northwest Highway. Families gathered around black-and-white television sets to watch popular new sitcom "I Love Lucy." Still just a high-schooler in Memphis, Elvis' gyrating hips wouldn't send SMU girls into a frenzy for another five years. A cheeseburger fries and a drink would set you back less than a dollar.
A lot has changed in the past 60 years, but Burger House's loyal customers know that some things are just too good to mess with. That's why the burgers, fries and shakes at Burger House are made the same way today as they were way back in 1951. For one day only, on December 13, Burger House will make one welcome change. To celebrate their milestone anniversary, all Burger House locations will serve their famous cheeseburgers for just 60 cents and give away special prizes throughout the day.
Burger House on Mockingbird, located at 6248 E. Mockingbird Lane, will support local schools with a French-fry eating contest for students from 3 to 5 p.m. The first student to finish their basket of fries will win free fries for a year, as well as a donation to their school.
Free burgers, fries, shakes, hot dogs, T-shirts and hats will be given away throughout the day to diners who complete an info card in store. Current patrons are also being encouraged to sport their Burger House t-shirts for the celebration. Hourly prizes, including free burgers, fries and milkshakes for a year, will be up for grabs at Hillcrest and Mockingbird locations. One grand prize winner will win a 50-person hamburger party catered by Burger House, a $650 dollar value.
Burger House owners Angelo Chantilis, Jr. (Sonny) and Christopher Canellos are excited to give back to the community that has supported them for the past 60 years.
"What started out 60 years ago is still going on today, and we couldn't have been here without our loyal customers," says Canellos.
"I'm most excited to give back to the neighboring schools with the fry eating contest," adds Chantilis. "The kids have been making up their own contests for years, so it'll be great to actually reward their schools for all their practice."
What: Burger House's 60th Anniversary
When: December 13, 2011
Cost: 60 cent cheeseburgers; dine-in only except at Hillcrest location
Milkshake toast from University Park Mayor W. Richard Davis

11:00 AM — Original Hillcrest location

French-fry eating contest at Mockingbird location to be determined
•••••
Burger House, a Dallas institution, has been serving up award-winning burgers, crispy seasoned fries, real shakes and old-fashioned malts since it was founded by Prometheus "Jack" Koustabardis in 1951. Burger House is committed to serving a great tasting meal using the freshest ingredients in a family-friendly atmosphere.
For More Information: Kathy Prather, 214.485.7300, Send Email